FOUNDING Member & Administrator
Staff member
Happy Friday today, with all the flood of parts coming in
:
First Custom Order 996 Strada Radiator (which is larger than stock 996 radiator but should still fit without any modification to the fairing).
However, since I will be using it on a 998 chassis with 999s deep sump engine, it need to be modified from single fan on the 996 to the double fan setup of the 998. Modification was done at Febur Factory of course
: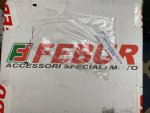 They include 2 different color of Febur Decals
: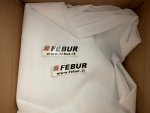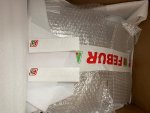 It also come with an extra solid pipe which I believe was for the 996: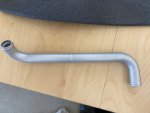 Here it is, front and back. Please note on the 6 mounting point for the electric dual fan on the back side.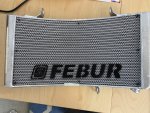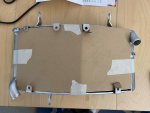 The only issue is.... Compare to stock 999 yes, 999 radiator, this Febur 996 Strada radiator is both taller and wider (but same thickness) compare to even the 999s radiator. Just for reference the 999s radiator has the same dimension as the 998 radiator.
You can see how the Febur on the left is taller than the 999s radiator on the right... which means the measurement I provided to Febur to make those 6 mounting tab is... well a bit off vertically
, but no worries, I find a way with some bracket as usual and the most important thing is, I don't have to take this Febur radiator to a local radiator shop to add (weld) those mounting tabs,
but it was done by Febur factory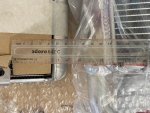 The 3 pictures below again show how the Febur 996 Strada radiator is taller and wider compare to the 99s radiator on the right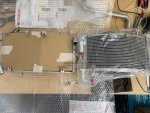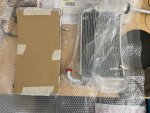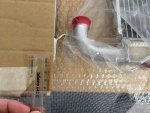 But thickness is the same: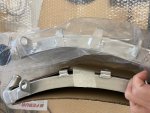 You guys might ask, why don't I just buy a 998 Febur Strada radiator (Street)? well Febur do NOT make any Strada radiator for the 998, only Strada/Race version which mean cutting the fairing and I don't want that.
It also cannot use the fan anymore, and I don't want that too.
But I am really happy that I can replace the original stock (and not so fresh looking) stock 998 radiator on my bike with this Febur, plus combined with the AELLA radiator guard, it will look PERFECT with those Black Painted Febur Logo peeking behind the AELLA radiator guard
Ok, next is the 996RS CORSE Dual (Progressive and Linear) BILLET upper rear shock link which I purchased from Bursi Evolution. The only have the black anodized in stock, so I took it but I plan to change the finish later to either polished aluminum or cerakote in silver or painted in silver or even painted in red anodized... I am still not sure for now.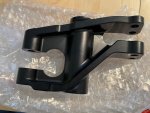 Now, it is DUAL because as you can see there are lower and upper mounting bolt, the upper is for Progressive and lower is for linear that is more suitable with the longer race swing arm and much higher rate rear springs.
I will utilize the progressive version because I am not looking for super stiff suspension plus no one made the longer (NEW) magnesium swing arm anyway
I can buy some use magnesium swing arm... but I don't feel like it... I want most parts on this bike to be NEW.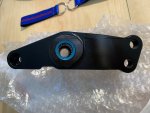 Talking about new parts, I am currently working to get the updated version of the Ohlins DU143 that Ohlins no longer made for 998 (it's the TTX-GP of the 998 era, so higher performance than stock Ohlins that came with 998).
This will be a special batch production from Ohlins in Sweden, but it might take quite a while before it is ready so stay tune on this one.
Well, my 998 already come with rear Ohlins, but first, it is the stock rear Ohlins and second, I am sure it is not looking new/fresh anymore... so I want it to look new and also better than stock Ohlins.
Now, how about Ducati Corse (yes original Ducati Corse) Billet water hose nipple for the cylinder heads of 998RS (yes RS)? These parts is super rare and I am lucky to get a new set: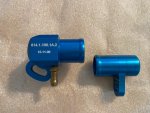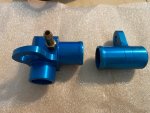 Then... I purchase a pair of BRAND NEW Ducati 999 Cylinder Block... the 999s engine that I purchase have a very low mileage cylinder block, but still it won't look new (on the outside) so I decided, just buy a new one, not to just look new but it is really new: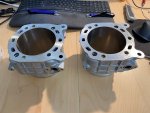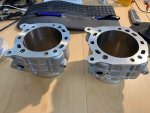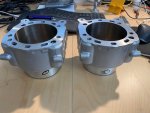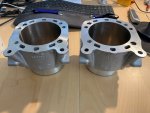 Continue below...