FOUNDING Member & Administrator
Staff member
TGIF morning update
:
Some more parts arrived yesterday...
About a year ago, my friend
@HKMP7
offered me a great deal for his Motocorse Eccentric Swing Arm/Axle Titanium Bolts that he decided not to use, regretfully, I did not took that offer...
Fast forward a year later, one day while browsing at Motocorse website, I finally realize that the Motocorse Eccentric Swing Arm/Axle Bolts Titanium Bolts is HOLLOW !!! and so I decided to buy it to replace the ProTi bolts that I had.
Here are the pictures just arrived and notice the HOLLOW feature of it, so beautiful
: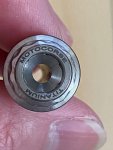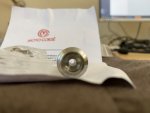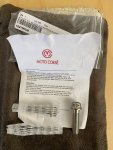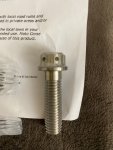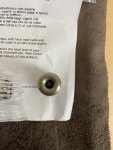 The only issue that I now have is, my 12 points socket (12mm size) is for Impact Grade and it is a bit too small to fit on the Motocorse 12 points head (picture below), so I am ordering a NON impact grade version and for 1/4" wrench so hopefully it will have thinner wall that fit this bolt: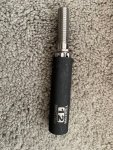 Then I Test Fit it without tightening it yet and left picture is BEFORE with ProTi and Right Picture is Motocorse: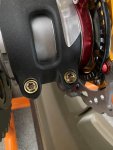 More pictures below: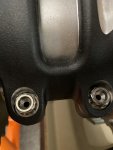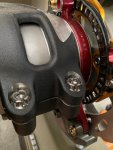 Also, I ordered a second Motocorse Titanium Wheel Nut (for the sprocket side) to match the wheel side and arrived yesterday, however since the first Motocorse nut was from old stock at Bellissimoto and the new nut is freshly machined from Motocorse, they had slight differences in the color.
The newer nut had a more shiny finish and the Motocorse lasermarked logo is much sharper than the older nut. I asked my sons and my wife and they all confirm with my observation that the older, more subdue finish is actually looks better than the shinier new nut especially for the wheel side.
However, for the sprocket side, this newer shinier nut is perfect to match with the shiny AEM-Factory Sprocket Carrier (D-SEI V4) so the new nut definitely go to the sprocket side.
Here are their comparison side by side: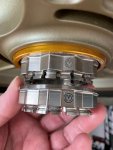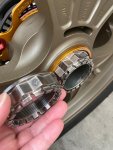 more pictures: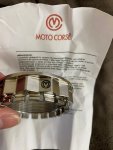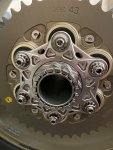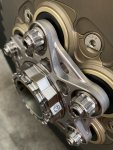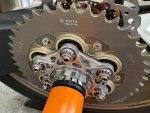 Oh, talking about AEM-Factory, Bellissimoto have a red cone in stock so I ordered it and below are comparison with the gold cone that I currently use: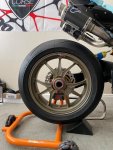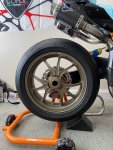 I think Red looks great and I might alter between red and gold when I am bored
Close up picture, notice there is no word "AEM" on this cone? because this is the NOS (New Old Stock) version: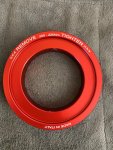 And to get Free Shipping, I ordered the 2 remaining Termignoni shirts on sale at Bellissimoto, it say "The Italian Sound" on it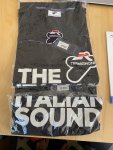 More update later today and also this weekend going to be a BUSY FUN DUCATImodified weekend