FOUNDING Member & Moderator
Staff member
Hello fellow Ducati fans,
My first post on this forum. Stand by for some time travel as my love affair with the 1199 started a while ago. I had a long break from motorcycling and then in around 2011 I started looking at bikes again. I test rode a couple of 1198 and the S1000RR. I liked the sound of the Ducati and always wanted one and was about to buy a new 2011 1198SP. Then I read about the Panigale 1199. The first bike was shown at the 2011 International Motorcycle and Accessories Exhibition (EICMA) in Milan. That was in November 2011. The next stop, (a week later) for that first bike was Sydney Australia, at the Sydney Motorcycle Show. I went to the show was there when it opened and saw the Panigale. It came here before it went to the USA. I could only look at it but not sit on it. I found a Ducati representative of the importer and paid my $500 deposit on the spot. I ended up receiving the 5th Panigale in Australia. I had to wait till May 2012.
This is a pic of the display bike back in 2011. Next stop was the USA.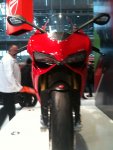 So roll forward to May 2012 and this next pic is my bike at the dealer the night I picked it up. My return to motorcycling after a 29 year break.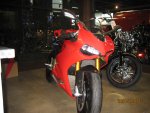 Next pic, bike arrives home. My neighbour and good buddy (wearing glasses) a Harley Davidson owner, is in the process of telling me that Ducatis always break down due to bad electrics. I am trying to tell him all about how it is the first production bike with RBW throttle and LED headlights, while my son looks on at Dad's new toy.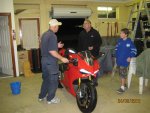 Well it did not take long and I started to think of what things I could do to the bike. The first thing that had to go was the terrible looking rear number plate holder which was a monstrosity. Well you are probably all bored by now with my ancient tale so will leave it to the next post for pics of the DP tail tidy, which was the start of what was to be a great journey of learning with this bike.
Looking forward to learning more on this new great forum.