Hi all fellow Ducati enthusiast's.
I'm Jones from cold Finland.
I have been lurking forum for a while and at first I thought that I will not post my build, because of hi level of your builds, but maybe I can offer something different, mostly DIY.
Little Background. I have ridden bikes 30 years, mostly Japanese, but always dreamed about Ducati and last summer happened some strange.
One of my buddie's trade his RSV4 to -19 PV4 base and was exited about it. My another bud was having trouble with his brand new 2020 S1000RR and trade it to new -20 V4S.
When they was driving back home, they started to harassed me and forth guy from our driving group, with messages and calls, that dealer have 2 more Panigales -18 and -19 base, waiting for new owner.
Things lead to another and week from that, me and that forth guy, found ourselves having a Panigales.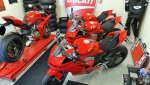 It was end of summer and I had some tragedy in my family, so I get to ride only 1000km's.
So I took that -19 base model, which was almost original, only Ducati performance license plate holder.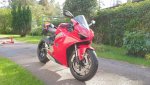 We get to ride together couple of time