FOUNDING Member & Administrator
Staff member
Next, I continue with my SC-Project heat guard preservation project
, yeah, the SC-Project carbon heat guard need another layer of heat guard to protect it from discoloring badly.
First, I received the black stainless steel washers:
Which I needed behind the Gold ProTi Titanium Bolts: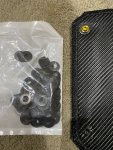 Then I install the top area with the stainless steel clamp part of this kit from DEI: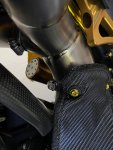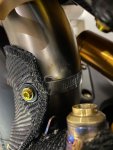 The bottom part of this DEI fabric heat shield was directly bolted to the exhaust pipe via the bolt originally for the SC-Project carbon fiber heat shield: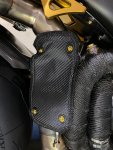 Then I need to enlarge the holes on the SC-Project Carbon Fiber heat shield to accommodate the sensor bung plug on the SC-Project exhaust header itself. Left picture before enlarging, right picture after enlarging.
Oh, it also need enlarging because adding those DEI fabric protection behind the carbon fiber heatshield (plus those green Ducati heat shield washer) alter the position so the bung no longer fit in the original circle of opening.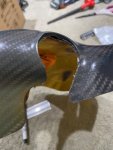 Now it fit well inside the circle, and the carbon fiber heat shield no longer directly touch the exhaust (it will burned sooner or later if touch):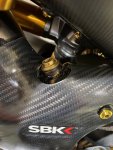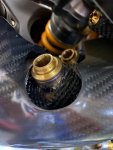 I then add ProTi bolt and nut to cover the third holes but this no longer bolted to the SC-Project exhaust pipe since the position is too far off. That mean the heat shield is not only hold by 2 other bolts but they should be strong enough: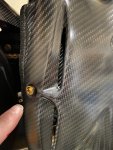 This is how it looks now with the added DEI fabric heat shield behind the SC-Project carbon fiber heat shield: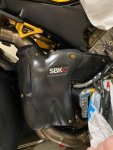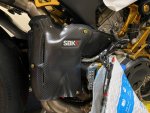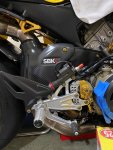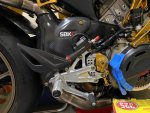 Today, I will remove the SC-Project carbon fiber heat shield again to:
a. apply resin polymer to coat the open skin where I dremel it to enlarge the circle to ensure no moisture will seep in and destroy the carbon fiber layer.
b. I will soon send it to Spooky Fast to be clear coated again since the current clear coat is already discolored due to the high temperature it was exposed to (when some area touched the exhaust manifolds).