Somehow never found this forum before, but this is my bread and butter, except when I run into wiring issues
a little teaser of my current project: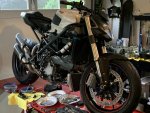 '12 streetfighter 848 ($1400 purchase price, so gave myself some room for experimenting) converted to 1040, with a dry clutch I threw together for under $700.
short list of the other mods, I'll try to get pics up later:
panigale v4 oil cooler with an8 lines
Chopped termis with exhaust flapper removed
Stepper motor and mount removed
Forged wheels from a hm1100
Single front rotor setup using a 330 mm fully floating rotor, brembo m4 caliper, and a 13mm radial master cylinder
Carbon front fender
Carbon handlebars
Lightweight axle
996 rear rotor and caliper carrier
Lightweight rear caliper(bonamicci? Sp*)
Ohlins ttx with linear link
Aluminum 848 subframe when black tank is on, custom 848/999 aluminum subframe when I throw on the white tank
Monster 821 carbon belt covers
1098 radiator
Microtec ecu
every unsprung bolt is now titanium or aluminum
520 final drive with the lightest setup I could find
Superfluous wiring removed
Carbon rear hugger chopped down to protect the shock
there's some other things I'm forgetting, but I'll try to update as I go
the goal is to get the bike as light as possible, hopefully 325 lbs wet before I cave and buy carbon wheels and lighter rotors.
Anyways, excited to start posting!
bonus: low effort homemade carbon fiber headlight cover. It was still curing, so I shaped it to the headlight with rubber bands: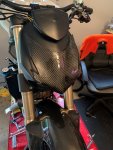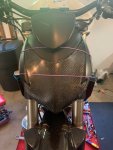 The white spots are dried wax that was removed before clear coating and sanding.
Probably only a track piece, but it looks cool.
have a good weekend guys!