Since noones posted in this forum yet, here's my monster: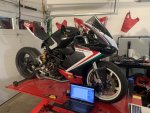 ive always wanted a panigale, but the closed off software is a no go for me, so I set out to make my own.
06 s2r1000 with hi comp 1100 top end.
almost too many mods to list, but after 700 miles, blew a wiseco piston (great service from fast by Ferracci, blaming me for an incorrectly machined piston. Also fuck Ferracci.)
since I could never get the bodywork to mesh with the trellis frame and was getting massive amounts of blow by due to the defective wiseco piston, I stripped it alll the way down, picked up an 1198 frame, modified the cases to fit the frame, and am planning on using that platform, making it easily convertible from a fully faired bike to a streetfighter.
Since then, I picked up this, which has a cracked engine mount: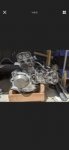 It's an 06 999 engine. Have good set of cases on hand, so my new plan is to weld the cracked cases and use the deep sump motor for the 2v, which I will try to bump to 1300cc.
the 999 will go in a 996 frame, which should be interesting.
for reference, this is what the monster looked like the day I bought it: