I'll never complain about rain since it gives us free water and keeps bushfires away. But right now it's keeping me and bike off the road. I completed this latest project nearly 2 weeks ago and it's been raining ever since. We're high and dry(-ish) but surrounded by floods and landslides, every road cut, and I've got square eyes from too much Netflix. So what better time to show you my recent renovations on my 2020 V4S?
Before I begin, I'm not entirely happy with what I've done and may change it but have already decided to leave it for a while, at least until I see it under sunshine. It will either grow on me or bug me to high heavens. You'll see why - I'll explain as we go.
Ducati Corse fairing stickers
. Wow, it's been 12 months since I got the bike. I've never really wanted a red bike but if you want a Duc V4 then, yeah, get used to it. So one of the very first purchases was a pair of "Ducati Corse" stickers for the lower fairings to break up the red. The Anniversario had just come out so I chose those stickers for something different. Bought from Ducati dealer. But they sat in a box until just now while I mulled over other ideas. As far as stickers go with bubbles being a major likelihood these turned out well.
Ilmberger Tail Cover
. The next idea came from HKMP7's build thread very early on. I liked the carbon tail covers that were around and HK's pictures convinced me Ilmberger was my preference although very expensive - but over the course of many months it became apparent that Ilmberger do not have discounts. Then out of the blue came Performance Parts, UK with a 15% off everything sale (December?) for Cyber Monday. Also freight from UK was much cheaper than direct from Germany (which I simply don't understand) although, as it turned out, when the part finally arrived in the UK (I am in Aus) the Brexit impacts had taken effect and there was a €15 increase in freight, of which I agreed to pay half.
Tricolore tail sticker
. Also from HK I liked the idea of attaching a tricolore sticker on the tail and silver seemed the right choice. I ordered the from Ducati and only by luck got the "right" colour. I had asked for silver letters and mentioned "like the Anniversario". So they ordered Anniversario stickers. But these are not silver. The colour is Metallic Carbon and on the carbon tail it is much more of a stealth look than the brighter silver. Both look nice but better for me to tie in with the large lettering on the lower side fairings.
Ilmberger tail cap
. I later ordered the matching tail cap, again from Performance Parts even though the sale was over, after getting advice from this forum, and both pieces finally arrived together in Feb. (I actually ordered 3 items on 3 different occasions and PP held my original order to save me postage costs. Great service.) I liked the Peter Lieb option with 3D recessed Ducati badge but decided it was more important to ensure the carbon finish is absolutely identical when the pieces are immediately adjacent.
Vulturbike stripes
. With a lot of time on my hands I dithered over whether to add coloured stickers to the tail. Vulturbike seem to offer the most comprehensive choice and I eventually opted for the ones you see here. Not an easy decision. These stickers are relatively thick which I don't like because the cut edge is white vinyl and stands out in certain light. Also the pointy ends are very easily snagged by a cleaning cloth so you can easily lift and damage the stickers after they have been applied. Quality was not great - I had to re-cut the outline because curves did not align properly with straight edges.
Vulturbike Ducati Laurel
. These come as a pair, meant for some other bike, but thought it might sit nicely on the tail pad. (Spoiler Alert: I also had another item in the mill with Luimoto and all of the Vulturbike choices were about complementing this piece.) A very fiddly and delicate piece, not as thick as the stripes, but again a nightmare waiting to be jagged by a cleaning cloth.
Seal-It pen
. The same problem applies to all stickers but is much more likely if the stickers are thick like the Vulturbike stripes or if they are very small or fine like the Ducati tricolore lettering on the tail - each letter is a separate sticker so many opportunities to catch with the cloth each time you clean the bike. To mitigate this problem I decided to use a "Seal It" edge sealing pen. This was difficult to do without making a mess. Even when perfectly applied it leaves an obvious gloss edge around each sticker. For the tiny "DUCATI" letters, and also the badge that I stuck on the tail pad, I covered the entire sticker. This is not ideal because it leaves track marks from the pen tip - again visible in certain light. But on balance I'm happy I used the pen. Oddly, it turned out nicely on the large Ducati Corse fairing stickers (again each letter is separate) and doesn't look too obvious. The key here is to apply using a continuous line as far as possible. Don't use short brush strokes. Sit the length of the pen edge (it's a wedge shaped nib) into the edge of the sticker and you'll find it will follow the edge like a track. I did not try - or want - to leave a full width pen line on the sticker and outside the sticker as suggested. I applied the thinnest line I could, a single track around the edge. Or am I too pedantic? I'll live with them for a bit and see.
R&G boot guards
. I bought the boot and the tanks guards from R&G months ago. Then read so many stories about them lifting and glue not sticking that I held off putting them on. But recently discovered a tiny but deep chip near my left boot so these were a sensible idea. They look pretty inconspicuous imo.
Stompgrip Icon Tank Grips (clear)
. I was curious so decided to order these and am very happy I did. These are the less aggressive ones - for me it's more about paint protection than grip since I'm not tracking. They're perfect. Stick very well to the tank (so far) and give a jewel-like crystal effect over the red paint. I like it.
Carpro Cquartz UK 3.0
. The new carbon pieces and all stickers are now covered with this ceramic coating, 3 coats. Additionally they received 2 coats of Carpro Reload. ( Not on the tank guards or boot protectors.) Prior to applying all stick-on items on the red painted surfaces I gave them all a good polish to remove previous nano-coatings as much as possible (I used this stuff a year ago). I then cleaned with Mothers California Gold Detailer. Finally thoroughly wiped over with Isopropyl Alcohol 60%. After a few weeks everything seems to be bonding well. Also applied the Carpro ceramic coatings to the entire lower fairings including the black plastic. Will polish and re-do the rest of the bike when this rain moves on.
Conclusion
. The jury's out. I really don't like stickers because they can be so-obviously stickers when not covered by a clear coat (and I don't want to go to that expense, especially as I may not like the end result). The Vulturbike stripes suffer from this and it's made even worse by the thick edge. The Seal-It pen is not a good look. It has a gloss finish (carbon is matt/satin) and it dries very quickly which exaccerbates the brush stroke effect when fully covering tiny stickers. But it's not TOO bad - trying not to overstate the bad-ness - and only time will tell how much it annoys me. Apparently it can be removed with "spirit" whatever that is. Methylated Spirit maybe? But need to be careful of marring the carbon clear coat. On the other hand the large Ducati Corse fairing stickers look good, organic. But to tell you the truth
at this point
I'm not really liking the Vulturbike stripes - they really do look like plastic stickers. So may revert to a plain black tail.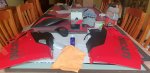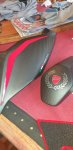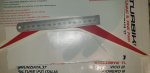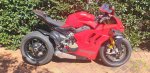 Stand by for part 2 coming shortly...