FOUNDING Member & Administrator
Staff member
@BMW Alpina

Do you have a line on getting a custom axle made?
Hi HKMP7,
I just bought an AELLA Chromoly axle for Ducati 999 to prepare for this project and will make custom NUT.
Our Panigale V4 stock Axle have 35mm diameter on the right leg while the new FGR400 only have 30mm of diameter on BOTH leg. So our axle will not be able to be fully inserted into FGR400 right leg.
The Ducati 999 axle on the other hand have 30mm of diameter for the right leg so it will be able to be fully inserted. The issue is the Ducati 999 axle is 12mm too short.
So to solve this problem I will machined a custom NUT that will be 12mm DEEPER than our current Panigale V4 NUT.
Please note the NUT of both Panigale V4 and Ducati 999 utilize the same 25mm diameter thread with the same thread pitch. Both nuts also have the same outer diameter of 30mm that will fit the LEFT leg diameter of 30mm from the FGR400
I have not decided where I am going to order this custom machined nut though but I believe Fast by Frank can make a custom nut (I haven't ask him).
Or better yet, Fast by Frank should be able to make a custom front axle for FGR400 since it is exactly the same as the axle used on the FGR300.
Another source for turn key solution is from our forum official vendor
@MOTION SBK
or from e/t Evol Technology as used by our forum member
@Bruce Wayne
Oh, you might need a custom wheel spacer for the right side that is 0.5mm thinner (or maybe not since 0.5mm is so very thin...
Below is the drawing of our Panigale V4 Axle from K-Bike website: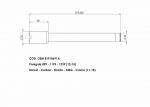 And here is the drawing of Ducati 999 axle also from K-Bike website: