Just plunked down a deposit on the only Streetfighter V4 SP that Fay Myers in Denver will be getting. I had a shot at the Panigale V4 SP but, and this is personal opinion, I didn't like the amount of matte black paint it had with the full fairings, etc. I like the matte black more on the Streetfighter because there isn't as 'much' of it and I think the engine in the open more evenly 'balances' the amount of black seen. That and with the carbon wheels, single seat, Rizoma rearsets and dry clutch and carbon cover, all mods I would have done anyway, I could easily justify the added cost of the bike as I would have added that in upgrades anyway. Rumors swirling about it being delivered sometime in May but was told to more realistically expect a June-ish timeframe.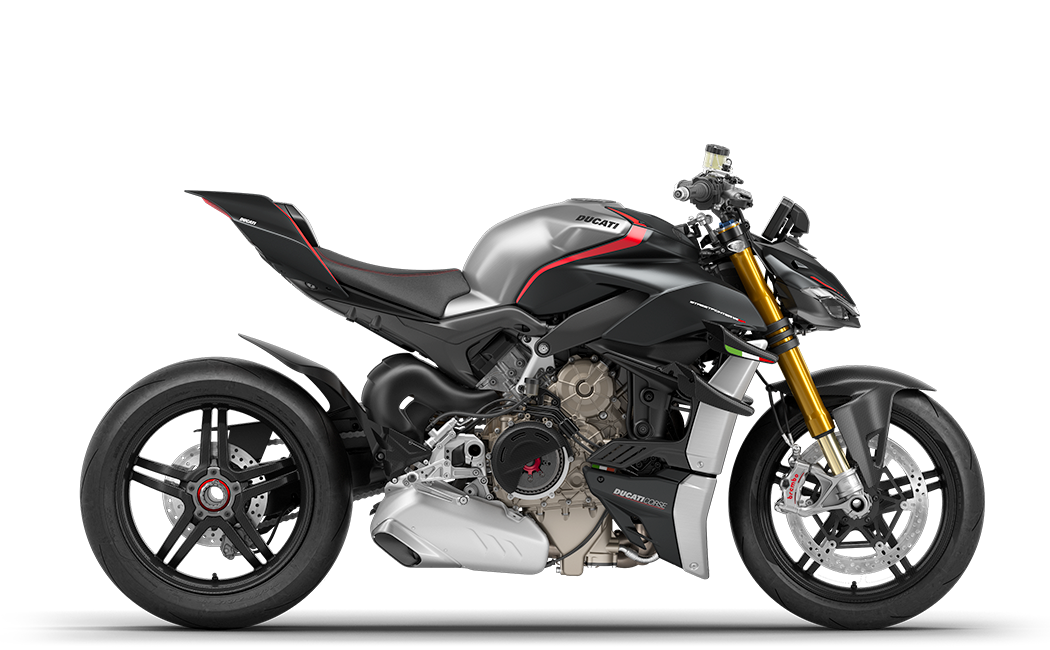 I've also been told that I will be the one to uncrate and build it under the watchful eye of one of their Ducati techs, which means they'll get to watch me pull plastic off parts and pop the seat on and battery in the thing. Even I can't screw that one up too terribly bad. Given that it's a 'Limited Edition', I'll keep the mods relatively simple but I've already got a pile of parts here or on their way long before I even get the bike. So far we've got the following here or on its way:
AEM Factory 'SP Kit' Rear Sprocket Carrier and Flange and I went with the 'D-Sei' flavor flange on the left (mostly because it more evenly shows the sprocket carrier and cush drives and I'm all about symmetry)
Rizoma Ride-by-Wire Sport Grips in black w/ Ducati Spacers
'Ducati by Rizoma' Folding Levers
FuturisMoto Tail Tidy with tucked plate
'Ducati Performance' Carbon Generator Cover w/ STM Timing Inspection Cover in black
CNC Racing Carnon Fiber GP Carbon Racing Brake Cooling Ducts in matte w/ mounts
Speedo Angels Dashboard Screen Protector in anti-glare
Podium Racing Gun Drilled Ti Caliper Bolts
AELLA Ti Brembo Caliper Washers and Spacers
'Ducati Performance' Carbon Fiber Tank Protector w/ R&G Racing Tank Traction Grips
'Ducati by Rizoma' Oil Fill Plug in black
AELLA Ti Sidestand Pin in plain Ti
AELLA Front Axle Spacers
'Ducati by Rizoma' Front Fork Sliders
V4Evo Ti Frame Screws (set of 4)
V4Evo Ti Wheel Nut Clips in black
And I'm sure I've got a few more thing floating around that will go on it as soon as it gets here, including a full Akra system with a Sprint P08F1-85 and likely a BrenTune map. I almost bought a set of the CNC Racing 'Nintendo Controllers' for the bike as they were on-sale for 'Black Friday' but I wasn't absolutely positive that Ducati wasn't going to do something funky with the layout on the SP and I'd hate to end-up with a set that didn't work for one reason or another. 99% positive they'll be the same but waiting a few months likely won't kill me.
The guy I've bought all of my bikes from, who also happens to be a personal friend, has figured out that once I start 'hoarding' parts for a bike I'll be buying it shortly afterwards. What he doesn't know about is my stash of Superleggera parts that I've been collecting...