FOUNDING Member & Moderator
Staff member
Big respect to Howard for putting together a site like this in next to no time and offering people like me a chance to display their businesses/passions/hobbies for everyone interested to see and interact with.
At the time of drawing this back in 2018 the dream of owning a Ducati, let alone one as close to the subject as I now fortunately do was completely unbelievable. So I told myself if I couldn't physically ride one I was still going to create the closest thing I could to experience that.
My 1299S Anniversario drawing was the result of that passion, or stubbornness dedicated to Ducati's 90 years of innovation and performance. Now I would like to offer it to someone who can appreciate the time and effort that has gone into the artwork who can admire it hanging above their own 1299SA perhaps.
I spent 200 hours trying to reflect every detail as close to perfection as I can whilst ensuring it still retained the characteristics of a physical drawing. The dimensions are 150cm x 100cm (4ft 9' x 3ft 3') Unfortunately I only have my iphone camera to photograph and so the resolution isn't the best, I don't think it's biased to say just like with our bikes, their presence can only be fully appreciated in person.
I hope you can enjoy the pictures and if you are interested in this original, one of a kind artwork shoot through a message.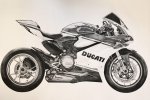 Last edited: