Hi,
been planning to start my build introduction here for some time already. As the bike ia more or less ready for this season then just walking through what's done to it and let's see how crazy we might go during next winter
my bike started as base Panigale V4 right from the getgo I knew that I will a lot of goodies on it and it doesn't make sense for me to buy S or even SP2 model and to start modifying it.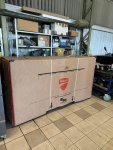 As coming from SF what got sold last year autumn and ordered Panigale right before that then one can get very creative over winter and start shopping around.
so what been added:
-ThyssenKrupp carbon wheels
-V4r forks and TTX shock, adjusted to my weight
-RCS Corsa Corta 17 master, RBF660 fluid and z04 pads, lengthened brake lines to cope with new clipons
-Ducabike clip-ons, throttle housing and Rizoma reservoirs. TWM clutch lever to match Corsa corta lever
-Gilles rearset
-Termignoni exhaust, Sprint air filter and upmap map(low Akra map)
-Fullsix carbon fest(fenders, airbox cover, frame covers, heat shield, monoposto)
-CNC bits and pieces like Pramac bar end weights, gas cap, caliper spacers, frame plugs, mirrors
-stickers from Vulturebike and MotoXPricambi
Still to do in nearest weeks parts been waiting in boxes:
-clear clutch
-RK black and gold 525 chain
-decide to keep the existing stickers, add missing one from the set, remove and keep it clean
Here is the aftermath of my perfect Italian art