Greetings,
Super excited to start this build thread as I have wanted to tear into a HyperMotard for some time.
I plan to keep this thread updated as this project moves along.
In August 2021 I found a great deal on a 10k mile 2010 796. One adult owner. Bone stock down to the exhaust and warning stickers all over the bike. Even had the stock fork reflectors on it (see below)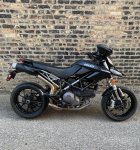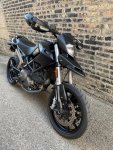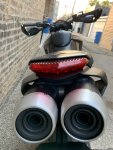 I have owned tons of different bikes and hot rods / trucks in the past so this isnt my first rodeo by far. Past Ducati's I have owned were a 2007 S2R1K: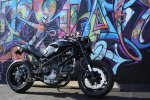 and a 2001 748: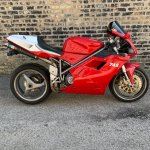 After the first spin around the block on the HyperMotard I was hooked for sure. Now its time to make it more "mine". I know it's not the biggest or fastest Ducati around. I bought this thing to chop up and make into a cool bar hopper and 2nd bike when I don't feel like taking out the Road King (my main bike)..
I know I am going to piss off a bunch of you Ducati purist guys with what I do to this thing , but, its mine so
. You do yours, and I will do mine.
The "change" list as this point for the bike is:
Lower the bike front and rear
Continental TKC80 knobby tires
Powdercoat wheels to match new paint (color at this point undecided)
Remove all un-wanted and or un-needed parts, covers, hoses, etc.
Fab up custom exhaust to get front head pipe high on the bike (similar to latest Hyper style)
Relocate license plate frame / turn signals / etc..
Ditch throttle side front brake caliper and rotor to have open wheel look on right side front and rear
Clean up handlebars / new mirrors / grips / bar end signals
Powdercoat a bunch of things Satin black to match the stock frame
Add some tastefull Carbon Fiber bits for contrast to the new paint
More of this build will be a less is more approach, instead of just throwing Ebay or Amazon parts at the bike.
I'm a huge fan of taking what needs to be on a bike, and moving or relocating it for a better / more appealing look or flow.
As I said above I will try and keep this thread updated and populated as progress happens with the build.
Stay tuned...